Built with a Penchant For Fun
An arched beadboard ceiling remittent of a ship's hallway takes you to the center of an open floor-plan kitchen/dining/living room that spans the full length of the home and includes a plethora of custom millwork and features (and a hidden room)
Built for entertaining and, well, an abundance of fun!
This homeowner has a big, colorful personality and his home features intricate millwork and custom cabinetry throughout. 
From the front entrance, an arched beadboard ceiling remittent of a ship's hallway takes you to the center of an open floor-plan kitchen/dining/living room that spans the full length of the home and includes a plethora of unique and visually exciting custom features.
To the left is a full kitchen with hard maple Longfellow Custom Cabinetry lining the perimeter wall, and below the countertops and island counter. All are finished with a Chantilly Lace Sheen. The island sink has a 4″ walnut butcher block countertop.
The kitchen interior wall has wall to ceiling custom cabinetry and includes the refrigerator and freezer doors and a spectacular custom panel door that opens a to a hidden study.  The millwork in the study has a finish and includes a coffered ceiling, custom bookcases and wall panels.
On either side of the room's center entrance are a matching wet bar and hutch both finished in a contrasting deep blue finish and including glass door custom cabinetry.
The dining area in the middle is delineated with a coffered ceiling, and the living room on the far side of the room has a soffit 14″ below ceiling height with cove LED lighting and crown moulding.
All flooring throughout is made of 8″ width, 3/4″ thick walnut.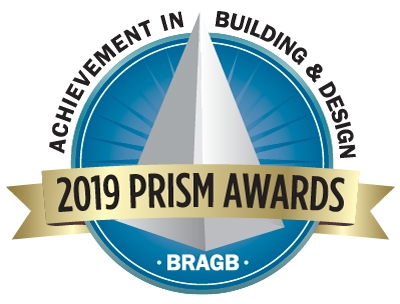 SILVER – 'BEST CUSTOM CABINETRY & MILLWORK'
Details
Builder: Longfellow Design Build

Custom Millwork, Cabinetry, Kitchen & Bathroom Design: Longfellow Design Build

Media room with home theater, full bar and pool table

Full out-door living area
Below is a gallery of images for this home. Click on any of the below thumbnails for a larger view or image slide-show
[g-gallery gid="26796″ pagination="inf_scroll"]