New Home Design & Construction
Coastal Home Renovation
Falmouth, MA
When the homeowner purchased this home in 2017, they expected a major renovation and not the design and build of an entirely new home.
Before and After
Enduring a one-hundred-year assault from Vineyard Sound's salt, wind, and moisture resulted in irreparable levels of rot and decay to this waterfront home.
Although the homeowner expected a major renovation they were not prepared to tear it down entirely and start over from scratch.
By choosing to renovate the home using the existing footprint, we were able to retain its historic character and avoid a costly new construction. To improve the homeís layout and flow, we converted the first floor from many small rooms to a spacious open floor-plan by installing two steel beams to replace load-bearing walls.
Although the home is roughly 50-yards from the waterfront, there was no water view from the house. To remedy this, we added a small deck from the 2nd-floor master bedroom. The homeowner explains, 'Having my morning coffee from that deck is often the best part of my day.'
We installed a bright new kitchen featuring Longfellow custom frameless cabinetry, quartzite countertops with a flowing pattern of pewter, apricot and chestnut tones, and a farmhouse sink. At the far end of the home is a traditional stone fireplace, using stone matching the original outdoor hardscape.
The transformation of this home won Longfellow a 2019 PRISM Gold award from The Builders and Remodelers Association of Greater Boston.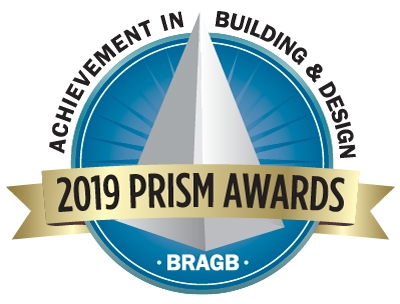 GOLD – 'Best Remodeling/Restoration Between $750K-1 M'
Details
Architect: Longfellow Design Build

Builder: Longfellow Design Build

Kitchen & Bath Design: Longfellow Design Build
Associates
Engineering
Cape & Islands Engineering
PROJECT PHOTOS
Below is a gallery of images for this home. Click on any of the below thumbnails for a larger view or image slide-show.
[g-gallery gid="26551″ overlay="172″]